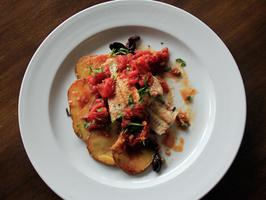 Delaware County's finest eels will be featured on the Cooking Channel this Thursday, along with the county's resident eel whisperer Ray Turner, the owner of Delaware Delicacies Smokehouse in Hancock, and Ed O'Neill, the chef and co-owner of the Andes Hotel in Andes (a Watershed Post advertiser). 
The show, "Hook, Line & Dinner," will follow host Ben Sargent as he learns from Turner how to catch eels using a stone weir and then smoke them. Then Sargent seeks out O'Neill's culinary skills to turn the eels into chowder and provencal (above), which is, according to the press release sent out by the Ed and Sally O'Neill, "something everyone will want to eat."  
The show first airs Thursday night, January 24, at 8pm on the Cooking Channel. Tune in and cheer your local weir-master and eel-chef!  
Read the full press release below:
ANDES HOTEL & DELAWARE DELICACIES SMOKE HOUSE FEATURED ON POPULAR COOKING CHANNEL SHOW "HOOK, LINE & DINNER"

On Jan 24th, 8pm, on the popular Cooking Channel show, "Hook, Line &Dinner" hosted by Ben Sargent, for culinary and fishing enthusiast, watch the process of catching, smoking and cooking local Catskill Mountain eel with two of Delaware County's own.

With a crafty recluse, Ray Turner, in the Catskills on the Delaware River in Hancock, Ben rebuilds a weir and learns to fish for and smoke eels. He searches the local area and takes his catch to a savvy chef & owner, Ed O'Neill, at the beautiful Andes Hotel where he prepares an amazing Chowder and Provencale that make eel something everyone will want to eat.
Below: Ed O'Neill at work in his kitchen.
Bottom: A video of eelman Ray Turner at work from Orion Magazine.