Above: Corey Stewart ascending a wall of rock in the Shawangunk Mountains in March 2012, a month before suffering a near-fatal accident. Photos courtesy of Corey Stewart.
Three days after reaching a milestone -- his 21st birthday -- Corey Stewart's life took a drastic turn and nearly ended with a 30-foot drop.
Stewart, an enthusiastic rock climber from Hampton, New Jersey, spent most of the day on April 3, 2012 in the West Trapps area of the Mohonk Preserve scaling the Gunks' famously challenging rocks and cliffs.
A seemingly serene and peaceful activity turned into a traumatic accident when Stewart, attempting to reach the top of a route, suddenly fell backwards 30 feet into a wall of rock, taking the impact directly to his head. Stewart dangled by a rope as his brain swelled and he faded in and out of consciousness.
Due to a bit of luck and advanced medical technology, Stewart is back to living a normal life -- and even rock climbing again.
Stewart was sent to Westchester Medical Center for a unique -- and controversial -- brain surgery known as a craniectomy, in which a piece of the skull is removed temporarily to alleviate pressure on the brain from swelling. After a long recovery period, when the swelling has gone down, another surgery is performed to re-install the skull flap that was removed.
During the surgery, neurosurgeon Michael Stiefel removed a large piece of Stewart's skull. Rather that storing it in a freezer or a sterile solution, Stiefel chose a safer place: Stewart's skull flap was sewn into his own abdomen, where his body would continue to nourish the living bone cells.
After three months in this condition, Stewart underwent a second brain surgery on June 23 to put his skull back into its proper place.
A grim prognosis
On the day of the accident Stewart's mother, Meg, was already in an emergency room in Newton, New Jersey because Stewart's younger sister, Heather, had gotten into a car accident the same day and was receiving X-rays on her leg.
According to Stewart's family, the initial prognosis from Stiefel was bleak; the chances of Stewart surviving were grim, and if he did there was a significant chance he would remain in a vegetative state.
Stewart had to be placed in a medically induced coma to allow his brain to relax while it swelled.
"For the first 48 hours [the doctors] would not commit to whether he would make it out of the coma or not," said Meg.
Incredibly, Stewart not only survived the traumatic injury, but has no significant lasting side effects and is rock climbing once again.
"I consider this experience to be the greatest learning experience I will ever have in my entire life," said Stewart. "Above all, I learned that you can never be too grateful for every breath you take, every morning you wake up, every sunrise you see and countryside you look out on," said Stewart.
A "faucet of blood"
On the day of his accident, Stewart explained that he was lead climbing a 5.9 route known as M.F. On the last 15 to 20 feet of the climb, he unknowingly deviated off the 5.9 MF route, and was accidentally following a 5.10 R line.
"When I was in the best shape of my life, I could lead climb 5.9s in the Gunks using all my strength and determination," said Stewart.
However, 5.10s were still out of Stewart's ability at the time.
Max Lasky, a friend who originally taught Stewart how to rock climb, was with him the day of his accident. Lasky explained that as Stewart was trying to make his way back to his original 5.9 route, he actually fell two other times prior to his near-death crash. The first two were minor, even though Stewart mentioned to Lasky that his ankle felt achy after the second fall.
"At that point a trigger should have went off telling me to make him come down," said Lasky.
But Stewart was persistent in accomplishing the challenge. Two seasoned climbers near Lasky and Stewart recommended Stewart perform an aid climb, where the rock climber situates a thin piece of metal into a crack along the rock and uses the metal to push themselves to the next spot on the wall instead of fixing their hand into the crack. Stewart completed this tactic and made it through the hardest part of the climb, but according to Lasky, about 30 seconds after reaching his next spot, Stewart suddenly fell backwards in an unusual manner -- descending head-first instead of feet-first, which is normally how one falls.
Stewart fell backwards until his stopper caught him and smashed into the wall of rock head-first. Lasky described the graphic scene of Stewart's dangling, unconscious body as though a shower faucet of blood had been turned on and was flowing from Stewart's helmet.
Lasky lowered him closer to the ground while witnesses ran over to safely lay Stewart on the ground. Lasky, who had taken a Wilderness First Responder Course from the Wilderness Medicine Institute, used his training to keep Stewart's head and back stable.
A few minutes after the fall, an emergency room doctor who happened to be nearby ran over to take care of Stewart before an ambulance arrived. In the meantime, Lasky ran with another person to grab a backboard from a rescue box. Upon returning to Stewart's side, Lasky realized Stewart was semi-conscious, trying to speak, but not making any sense.
The group of strangers by Stewart's side and Lasky carried Stewart out of the woods on the backboard and placed him on a pickup truck driven by an employee from the Mohonk Preserve where Lasky rode with him to an ambulance. Once he was transferred into the ambulance, Stewart was rushed to a field in Minnewaska State Park where he was airlifted by helicopter.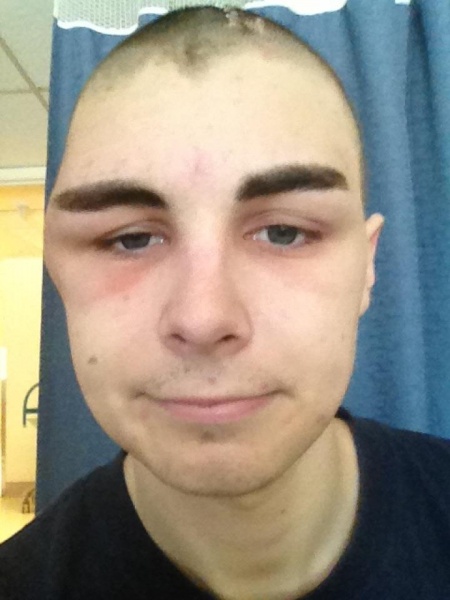 The side of Stewart's head was still swollen on July 4, 2012, a few weeks after a second surgery to put his skull back together.
Family and friends rally around Stewart
Lasky had to deliver the devastating news to Stewart's mother as well as his girlfriend of three years, Tess Oldfield, through a phone call while she was attending Ithaca College in New York.
"I fell to my knees crying," Oldfield recalled. She was able to visit Stewart at West Chester Medical Center a few days after the fall. At that time, much was still unknown about his condition, and Oldfield worried Stewart wouldn't remember her.
"I went upstairs to see him and as I walked in he said, 'Baby, finally you are here!'" said Oldfield. "He looked like Jimmy Neutron, his head was so swollen, but he looked so much better than I expected."
When Stewart first emerged from his three-day medically induced coma, he awoke to his older sister, Kaitlin, holding his hand.
"That was the most hurt I've seen anybody," Kaitlin said. "It still doesn't seem real."
Stewart stayed in the ICU where he received morphine and other medications to keep his body relaxed and free of pain while his brain swelled. Because of all the medication, Stewart was unaware of the severity of his condition or even where he was.
Oldfield kept a log of each hallucination and crazy quote Stewart uttered during his time in ICU. For example, one day he thought he was homeless and was required to clean dishes. Another time, he thought he was going to a music festival in Oregon. Kaitlin recalled Stewart frequently attempting to take off his oxygen mask and get out of his hospital bed to go home.
Kaitlin was at Stewart's bedside almost every day, along with their parents and younger sister Heather. They stayed at a Ronald McDonald house located across the street from the medical center so the family wouldn't have to travel back and forth from their New Jersey home.
Kaitlin brought in music and the two siblings would sing together.
"Corey was dancing in his bed and swinging the oxygen mask around," Kaitlin said.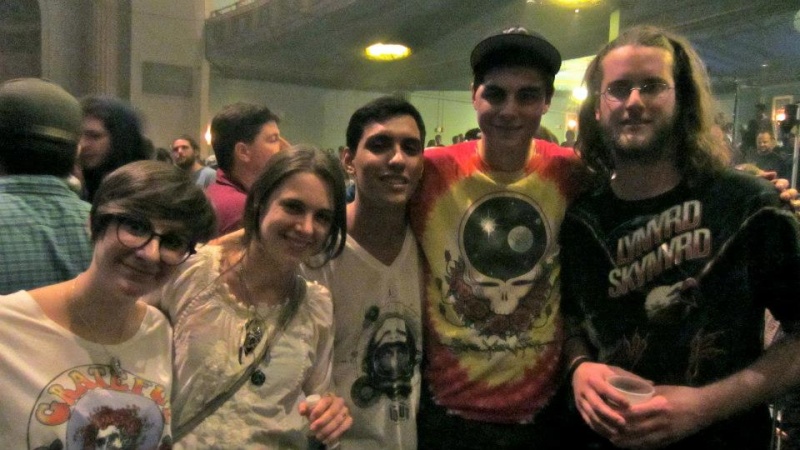 Stewart at a moe. concert with friends on November 10, 2012.  Left to right: Tess Oldfield, Kaitltin Stewart, Steve Carcamo, Corey Stewart and Pat Beighs.
The long road to recovery
After his body was able to reboot slightly, Stewart was taken by ambulance to Kessler Institute for Rehabilitation in West Orange, New Jersey, where he received inpatient care for another two weeks. At this time, Stewart came back to reality and apologized to the nurses who took care of him for giving them a hard time.
Once Stewart was sent home, he was instructed to wear a helmet and not leave his home because his skull had to remain in his abdomen until his brain returned to normal size.
Stewart said that the months that he was trapped in his home in Hampton was the most difficult part of the recovery for him. He said he would get headaches on a daily basis that were far worse than any migraine.
"It just hurt more than any pain I've experienced in my head," said Stewart.
Oldfield visited Stewart every day during this time. Stewart also credits his family and friends, especially Steve Carcamo and Jenn Williams, for showing unconditional support and keeping him entertained throughout his recovery. Stewart's hours without visitors were spent reading books for as long as he could before a headache would ensue, visiting the website lumosity.com to improve the strength of his brain and playing video games.
By the time June 23 rolled around, Stewart was more than ready to return to normalcy.
"I looked forward to that moment every day before it arrived, so when it was finally happening I was ecstatic to say the least," said Stewart.
He was able to drive, go back to work and live virtually unrestricted by the end of July.
Stewart made a cross-country move to Fort Collins, CO in January where he will finish earning his degree in science at Colorado State University. Although Stewart's accident has set his rock climbing abilities back to the beginner stage, he is excited to continue to test himself yet again in the climbing hotspot of the Sawtooth Reservoir, located in northern Colorado.
"I can never be thankful enough that I still have a mind to call my own, to be independent, to be the same Corey I was on April 2," said Stewart.
Lauren Scrudato of Stillwater, New Jersey is a journalism student at SUNY New Paltz. Her work has been published in the New Jersey Herald, Watershed Post and The Little Rebellion.