Above and below: Rosa Isela De Los Santos, right, and her family. Photos by Julia Reischel.
Last August, Rosa Isela De Los Santos felt some pain in her stomach. When she went to the doctor, she discovered that she had gastric cancer.
Since then, De Los Santos has had surgery to remove a tumor from her stomach and has undergone chemotherapy. But the cancer has spread to her ovaries and throughout her abdomen. Last month, her doctor told her that she likely has only a year to live.
De Los Santos is 29 years old, and has three children. Her youngest, Alexa, is only three.
On Wednesday, De Los Santos met with a Watershed Post reporter at Mi Lupita, a Fleischmanns restaurant run by her brother-in-law, Martin Morales. De Los Santos was calm.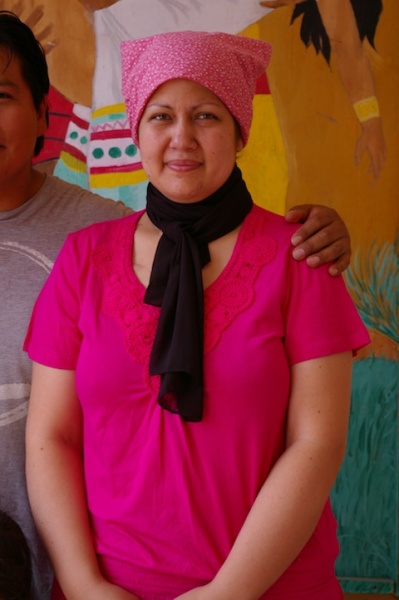 "Estoy triste...pero yo tengo mucho fe," she said. "Un milagro es posible."
["I am sad, but I have a lot of faith," she said. "A miracle is possible."]
She gestured towards her children. She worries about how they will do without her.
The diagnosis, surgery and chemotherapy De Los Santos has endured are an enormous burden. But this is not all De Los Santos and her family must face.
De Los Santos and her husband, 33-year-old Angel Sarabia, are part of the thriving Mexican community in Fleischmanns. They came to Fleischmanns nine years ago, but despite working for local businesses (he for a hotel, she for a bottled water company), they have no health insurance. They also have no U.S. citizenship.
Two of their children -- 14-year-old Hugo and 8-year-old Angeles -- were born in Mexico but have lived in the US all their lives. They attend Margaretville Central School, and they speak English. But they aren't U.S. citizens. (The third child, Alexa, was born in the U.S., and is therefore an American citizen.)
To cope with De Los Santos' terminal illness, the family has decided to move back to Mexico City to be near her family. They leave at the end of July.
This leaves Hugo, a Margaretville eighth grader, with an impossible choice: Move to Mexico -- a place he doesn't remember -- and risk never coming back, or leave his mother and stay in the U.S. as an undocumented immigrant by himself.
Legally, Hugo can stay. A Supreme Court decision in 1982 protects the right of undocumented immigrant children to attend public school. And this June, President Barack Obama ordered the Department of Homeland Security to stop deporting young illegal immigrants who came to the U.S. as children, have lived here for more than 5 years, and are in school. Hugo fits into that category.
His family isn't sure what to do.
"We haven't decided yet," said Sabaria. "We are deciding whether he should stay with relatives, or come with us."
And then there is the question of money. Without insurance, the Sarabia/De Los Santos family has to cobble together resources to pay for De Los Santos's treatment. Emergency Medicaid has covered some costs, including surgery to remove a tumor from De Los Santos's stomach, but not all.
The community has rallied around them to help. This Saturday, there will be a dance fundraiser for De Los Santos at La Cabana Mexican Restaurant in Fleischmanns. On Sunday, there will be a potluck fundraiser at the Purcell Center in Margaretville. (See details below.)
"The whole community has helped us," Sabaria said on Wednesday. "Mexicans, Americans, everyone. We are very grateful."
To help the De Los Santos/Sarabia family
Dance party fundraiser, Saturday, July 21, La Cabana Mexican Restaurant, 966 Main Street, Fleischmanns. (845) 254-4966.
Potluck fundraiser, Sunday, July 22 at 4:00, Purcell Parish Center, 61 Academy St., Margaretville. (Bring a dish and a cash or check contribution.)
Send donations to Rosa Isela De Los Santos, PO Box 624, Fleischmanns, NY 12430.