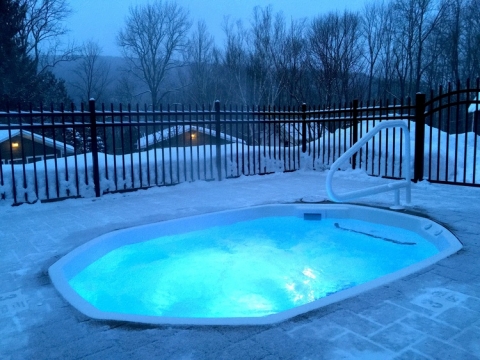 The Belleayre Lodge & Spa (www.belleayrelodge.com) is a fine facility with modern, incredible infrastructure and a successful business. Perfect opportunity for couple looking to settle down live rent free while they hold outside job or work from home.
Only one mile from Belleayre Mountain (www.belleayre.com) the inn is full during ski season. Through recent digital marketing summers have been booked! The area has a new buzz going, with new development the expansion of the ski area, new restaurants and energy.
On property (surrounded by Forever Wild State Land):
• 2 story renovated house and office
• Five two bedroom units (well built, only ten years old) with kitchens.
• Three one bedroom efficiency cabins (vintage but upgraded inside) with efficiency kitchens.
• A four or five bedroom guest house with continental kitchen and lounge.
• Two one bedroom units.
• A commercial kitchen and dining area.
• A recreation hall over 2000 square feet with pool table, spa equipment, other.
• A clean large cold storage with tools and equipment.
• A grocery store and yoga studio on property.
• And a New Commercial Health Department approved Salt Water Hot Tub.
• A truck and snow plow. A long stone driveway to the property, fire pit where guests get marshmallows upon arrival!
Some financing from owner is available to qualified buyer. Overall asking price is $600,000. Contact info@belleayrelodge.com for more information. Please do not visit the property without permission.
For qualified live-in innkeepers with high-level digital marketing ability and overall ability to run an inn, a lease at incredible terms may be available. You will be surprised at how reasonable lease terms are!