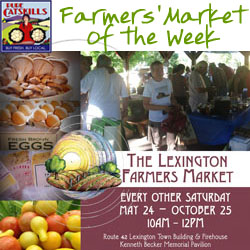 The Watershed Agricultural Council and Pure Catskills are featuring a different Catskills farmers' market every week during the 2016 growing season.
This week's market is the Lexington Farmers' Market, located on Route 42 in Lexington, NY in the Lexington Municipal Building Pavilion.
The Lexington Farmers' Market runs every other Saturday from May 28 - October 29, from 10 AM - 12 PM. [May 28; June 11, 25; July 9, 23; Aug. 6, 20; Sept. 3, 17; Oct. 1, 15, 29.] 
From the organizers: 
We have on-site produce, egg and food vendors and also bring in supplemental produce from nearby farms, mushrooms and cheese as well. We began as a once a month Project Hope enterprise to rebuild and heal the community spiritually after Hurricane Irene. We have evolved into a true farmers market with diverse food offerings and a lively following.
Products: Eggs (organic and conventional), produce (conventional and organic); Black Angus beef; organic poultry, lamb and pork; maple syrup, candy and creams; honey; cheese; mushrooms; baked goods and takeaway meals; fruit infused maple syrup; herbal soaps and sundries; cut flowers and potted perennials; organically grown garlic.
Vendors: On-site vendors: Newton Farm, Maple Hill Farm, Mountain Meadow Inn and Farm; North Settlement Natural; Tess's Kitchen; Elemental Delights; Owlsville Schoolhouse Nursery; JJF Farm; Heather Ridge Farm & The Bees Knees Cafe. Other farms we represent through their products at our market: RSK Farm; Bulich Mushroom Farm; Story Farms; Stone Ledge Organic CSA; Harpersfield Cheese.
Directions: From Prattsville east or Hunter west on 23A to Route 42 in Lexington. Route 42 goes through the hamlet and turns left to cross the Schoharie and right again towards Shandaken. Approximately 3 miles from 23A is the Lexington Municipal Building. We meet under the pavilion on the grounds. From Route 28, turn on Route 42, and about 13 miles on.
Questions? Contact Bonnie Blader, blader.bonnie9@gmail.com. 518-989-6211