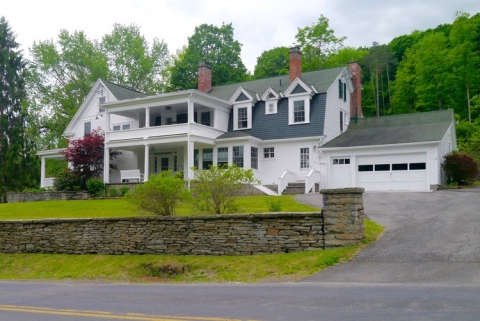 At the last streetlight out of town, you'll find the enchanting country estate of Valle Vue. This historic country house was built in the 1850's and has been completely renovated with modern amenities while still retaining many of its original details. 
The property has 37 private acres of former farmland, where apples, turnips, corn and maple syrup were once harvested alongside roaming sheep and chickens. In fact, the basement still has a root cellar once used to store produce in the winter months. 
You'll spend your summer days in various vignettes throughout the grounds, including the gardens, hammock and creek, all overlooking the property's original namesake - a panoramic view of the valley. The fall foliage cannot be beaten, and the property transforms into a winter wonderland during the colder months of the year. 
The home and surrounding property, which includes a breathtaking view of The Butternut Valley from an easy accessible hillside overlook, provide an idyllic and tranquil escape to recharge from metropolitan life. For rates and availability, please visit http://www.redcottageinc.com/vallevue